Formalización de Áreas Destinadas Voluntariamente a la Conservación en territorios comunitarios e indígenas, avances y reveses
Constanza Monterrubio-Solís

Pontificia Universidad Católica de Chile, Campus Villarrica.
Palabras clave:
Chimalapas, gobernanza, conservación comunitaria, conservación neoliberal.
Resumen
Ante el rechazo social hacia el establecimiento de nuevas áreas naturales protegidas en zonas habitadas y la necesidad de cumplir compromisos internacionales, la legislación actual en México reconoce la legitimidad de las Áreas Destinadas Voluntariamente a la Conservación, ADVC.
Este artículo explora la implementación temprana de una ADVC en la región Istmo-Sur. A partir del estudio de caso, se exploran las dinámicas entre las estructuras comunitarias de toma de decisiones, instituciones y reglas externas para el manejo del área, así como el grado de devolución de poderes de manejo de recursos destinados al manejo y acciones de conservación en dichas áreas.
Aun cuando los procesos de neoliberalización plantean la retirada del Estado en términos discursivos, los arreglos de gobernanza propician formas más sutiles de control. Sin embargo, las estructuras comunitarias muestran su capacidad de respuesta y la importancia de la asignación legítima de derechos y obligaciones dentro de los procesos comunitarios de conservación.
Descargas
La descarga de datos todavía no está disponible.
Citas
Adams, William y Jon Hutton, 2007, "People, Parks and Poverty: Political Ecology and Biodiversity Conservation", Conservation and Society, vol. 5, núm. 2, pp. 147-183.
Adger, Neil, Katrina Brown y Emma Tompkins, 2005, "The political economy of cross-scale networks in resource co-management", Ecology and Society, vol. 10, núm. 2, p. 9.
Alix-Garcia, Jennifer y Benjamin Harris, 2014, "Inequality, Community Participation, and the Allocation of Collective Profits", Economics & Politics, vol. 26, núm. 2, pp. 285-308.
Anaya, Ana y Marcela Álvarez, 1994, Plan de desarrollo y conservación de una reserva campesina en Los Chimalapas, Instituto Nacional de Ecología, México.
Andrade, Gustavo y Jonathan Rhodes, 2012, "Protected Areas and Local Communities: and Inevitable Partnership toward Successful Conservation Strategies", Ecology and Society, vol. 17, núm. 4, p. 14.
Andrew-Essien, Elizabeth y Francis Bisong, 2009, "Conflicts, Conservation and Natural Resource use in Protected Area Systems: An Analysis of Recurrent Issues", European Journal of Scientific Research, vol. 25, núm. 1, pp. 118-129.
Aparicio-Cid, Raquel (coordinadora), 2001, Chimalapas: La última oportunidad, Semarnat, WWF, México.
Armitage, Derek, Rob de Loë, R. y Rayn Plummer, 2012, "Environmental governance and its implications for conservation practice", Conservation Letters, núm. 5, pp. 245-255.
Arriaga, Laura, José Espinoza, Claudia Aguilar, Eduardo Martínez, Leticia Gómez y Eleazar Loa (coordinadores), 2000, Regiones terrestres prioritarias de México, Comisión Nacional para el Conocimiento y uso de la Biodiversidad. México.
Arts, Bas, 2004, "The global-local nexus: NGOs and the articulation of scale", Economische en Sociale Geografie, vol. 95, núm. 5, pp.
-510.
Bertrab Tamm, Alejandro, 2010, "Conflicto social alrededor de la conservación en la Reserva de la Biosfera de Los Tuxtlas: un análisis de intereses, posturas y consecuencias", Nueva antropología, vol. 23, núm. 72, pp. 55-80.
Bishop, Kevin, Abram Phillips y Lydia Warren, 1995, "Protected for ever?: Factors shaping the future of protected areas policy", Land Use Policy, vol. 12, núm. 4, pp. 291-305.
Brandon, Katrina, Larry Gorenflo, Ana Rodrigues, A. y Robert Waller, 2005, "Reconciling Biodiversity Conservation, People, Protected Areas, and Agricultural Suitability in Mexico", World Development, vol. 33, núm. 9, pp. 1403-1418.
Bray, David, Elvira Durán, E. y Óscar Molina-González, 2012, "Beyond harvests in the commons: multi-scale governance and turbulence in indigenous/community conserved areas in Oaxaca, Mexico", International Journal of the Commons, vol. 6, núm. 2, pp. 151-178.
Brenner, Judger y David Vargas, 2010, "Gobernabilidad y gobernanza ambiental en México. La experiencia de la Reserva de la Biosfera Sian Ka'an", Polis, vol. 6, núm. 2, pp. 115-154.
Brockington, Dan, Rosaleen Duffy y Jim Igoe, 2008, Nature Unbound. Conservation, Capitalism and the Future of Protected Areas, Earthscan, London.
Brockington, Dan y Jim Igoe, 2006, "Eviction for conservation", Conservation and Society, vol. 4, núm. 3, pp. 424-470.
Colchester, Marcus, 2004, "Conservation policy and indigenous peoples", Cultural Survival Quarterly, núm. 28, pp. 17-22. Cooke, Bill y Uma Kothari (eds.), 2001, Participation: The New Tyranny?, Zed Books, London.
Corbera, Esteve, Manuel Estrada, Peter May, Guillermo Navarro y Pablo Pacheco, 2011, "Rights to Land, Forests and Carbon in REDD+: Insights from Mexico, Brazil and Costa Rica", Forests, núm. 2, pp. 301-342.
De Teresa, Ana Paula y Gilberto Hernández, 2000, Los vaivenes de la selva. El proceso de reconstitución del territorio zoque de los Chimalapas, UAMI, Semarnap, Conacyt, México.
Doane, Molly, 2007, "The Political Economy of the Ecological Native", American Anthropologist, vol. 109, núm. 3, pp. 452-462.
Dowie, Mark, 2005, "Conservation Refugees. When protecting nature means kicking people out", Orion, November/December, pp.
-27.
Dressler, Wolfram, Bram Büscher, Michael Schoon, Dan Brockington, Tanya Hayes, Christian Kull, James McCarthy, Krishna Shrestha, 2010, "From hope to crisis and back again? A critical history of the global CBNRM narrative", Environmental Conservation, vol. 37, núm. 1, pp. 5-15.
Duffy, Rosaleen, 2005, "The Politics of Global Environmental Governance: The Powers and Limitations of Transfrontier Conservation Areas in Central America", Review of International Studies, vol. 31, núm. 1, pp. 307-323.
Durand, Leticia y Jorge Jiménez, 2010, "Sobre áreas naturales protegidas y la construcción de no-lugares. Ejemplos para México", Líder, vol. 16, núm. 12, pp. 59-72.
Durand, Leticia, Fernanda Figueroa y Tim Trench, 2014, "Inclusion and Exclusion in Participation Strategies in the Montes Azules Biosphere Reserve, Chiapas, Mexico", Conservation and Society, vol. 12, núm. 2, pp. 175-189.
Fairhead, James y Melissa Leach, 1996, "Enriching the Landscape: Social History and the Management of Transition Ecology in the forest Savanna Mosaic of the Republic of Guinea", Africa: Journal of the International African Institute, vol. 66, núm. 1, pp. 14-36.
Fritzen, Scott, 2007, "Can the Design of Community-Driven Devel- opment Reduce the Risk of Elite Capture? Evidence from In- donesia", World Development, vol. 35, núm. 8, pp. 1359-1375.
García Aguirre, Miguel, Ana Silvia Ortíz y Rosendo Montiel, 2000, Chimalapas: Nuestra experiencia en Ordenamiento Ecológico Participativo, Departament for International Development, Maderas del Pueblo del Sureste, AC, México.
Grupo Mesófilo, 2008, Programa de Conservación y Manejo del Cordón El Retén, San Miguel Chimalapas, Oaxaca, México, Comisaría de Bienes Comunales San Miguel Chimalapa, Grupo Mesófilo, Pronatura, WWF, México.
Gómez-Martínez, Emanuel, 2009, "Repensar Los Chimalapas", Jóvenes Investigadores, núm. 2, pp. 239-281.
Gutiérrez-Montes, Isabel, 2005, Healthy communities equal healthy ecosystems? Evolution (and breakdown) of a participatory ecological research project towards a community natural resource management process, San Miguel Chimalapa (Mexico), Retrospective Theses and Dissertations, Iowa State University, Iowa.
Haenn, Nora, Elizabeth Olson, José Martínez-Reyes y Leticia Durand,
, "Introduction: Between Capitalism, the State, and the Grassroots: Mexico's contribution to a Global Conservation Debate", Conservation and Society, vol. 12, núm. 2, pp. 111-119.
Inegi, 2010, Conjunto de datos: Población total y viviendas según marco geo-estadístico a 2010, Inegi, México.
IUCN/CEESP, 2012, Bio-cultural diversity conserved by indigenous peoples & local communities- examples and analysis, CENESTA, Tehran.
Lebel, Louise, John Anderies, Bruce Campbell, Carl Folke, Steve
Hatfield-Dodds, Terry Hughes y James Wilson, 2006, "Governance and the capacity to manage resilience in regional social-ecological systems", Ecology and Society, vol. 11, núm. 1, pp. 19.
Legorreta Díaz, Carmen, Conrado Márquez Rosano y Tim Trench (coordinadores), 2014, Paradojas de las tierras protegidas en Chiapas, CEIICH, CRIM y UACh, México, DF.
Lele, Sharachchandra, Peter Wilshusen, Dan Brockington, Reinmar Seidler y Kamaljit Bawa, 2010, "Beyond exclusion: alternative approaches to biodiversity conservation in the developing tropics", Current Opinion in Environmental Sustainability, núm. 2, pp. 1-7.
LGEEPA, 1996, Ley General del Equilibrio Ecológico y Protección al Ambiente, México.
LGEEPA, 2008, Ley General del Equilibrio Ecológico y Protección al Ambiente, México.
Li, Tania, 2005, "Beyond "the State" and Failed Schemes", American Anthropologist, vol. 107, núm. 3, pp. 383-394.
Mansuri, Gliazala y Vijayendra Rao, 2004, "Community-Based and- Driven Development: A Critical Review", The World Bark Research Observer, vol. 19, núm. 1, pp. 1-39.
Martin, Gary, Carlos del Campo, Claudia Camacho, G. Espinoza- Saucedo y X. Zolueta-Juan, 2010, "Negotiating the web of law and policy: Community designation of indigenous and community conserved areas in Mexico", Policy Matters, núm. 17, pp. 195-204.
McDermott, Mairtin y Kate Schreckenberg, 2009, "Equity in Community Forestry: Insights from North and South", International Forestry Review, vol. 11, núm. 2, pp. 157-170.
Merino-Pérez, Leticia, 2001, "Las políticas forestales y de conservación y sus impactos sobre las comunidades forestales", Revista de Estudios Agrarios, núm. 18, pp. 45-65.
Mitchell, Ross, 2006, "Environmental governance in Mexico: two case studies of Oaxaca's community forest sector", Journal of Latin American Studies, núm. 38, pp. 519-548.
Monterrubio-Solis, Constanza y Helen Newing, 2013, "Challenges in ICCA governance: the case of El Cordon del Reten in San Miguel Chimalapa, Oaxaca", en L. Porter-Bolland et al. (eds.), Community action for conservation: Mexican experiences, Springer, New York, pp. 63-82.
Ostrom, Elinor, 1996, "Crossing the great divide: co-production, synergy, and development", World Development, vol. 24, núm.
, pp. 1073-1087.
Pimbert, Michael y Jules Pretty, 1995, "Parks, People and Professionals: Putting 'Participation' into Protected Area Management", Discussion Paper, núm. 57, UNRISD, Geneva.
Platteau, Jean-Philippe y Frédéric Gaspart, 2003, "The Risk of Re- source Misappropriation in Community-Driven Develop- ment", World Development, vol. 31, núm. 10, pp. 1687-1703.
Pujadas, A. y A. Castillo, 2007, "Social participation in conservation efforts: A case study of a biosphere reserve on private lands in Mexico", Society & Natural Resources, vol. 20, núm. 1, pp. 57-72.
Rahnema, Majid, 2010, "Participation", in Sachs, Woldfang (ed.), The Development Dictionary: A Guide to Knowledge as Power, Zed Books, 2a. ed., New York, pp. 127-144.
Rhodes, Robert, 1997, Understanding Governance: Policy, networks, governance, reflexibility and accountability, Open University Press, Buckingham.
Ribot, Jesse y Nancy Peluso, 2003, "A theory of access", Rural Sociology, vol. 68, núm. 2, pp. 153-181.
Russell, Vance, 1996, The Chimalapas Ecological Campesino Reserve: The golden gourd of conflict and its role in protected area management, MSc dissertation, Cornell University, Ithaca, Nueva York.
Sachs, Woldfang (ed.), 2010,The Development Dictionary: A Guide to Knowledge as Power, 2a. ed., Zed Books, New York.
Tejeda-Cruz, Carlos, 2009, "Conservacion de la Biodiversidad y Comunidades Locales: Conflictos en Áreas Naturales Protegidas de la Selva Lacandona, Chiapas, México", Canadian Journal of Latin American and Caribbean Studies, vol. 34, núm. 68, pp. 57-88.
Trench, Tim, 2008, "Regularización de la propiedad En La Selva Lacandona: Cuento de Nunca Acabar", Pueblos y Fronteras digital, núm. 6, pp. 1-9.
Walker, David, John Jones, Susan Roberts y Oliver Fröling, 2007, "When Participation Meets Empowerment: The WWF and the Politics of Invitation in the Chimalapas, Mexico", Annals of the Association of American Geographers, vol. 97, núm. 2, pp. 423-444.
Wells, Michael y Thomas McShane, 2004, "Integrating Protected Area
Management with Local Needs and Aspirations", Ambio, vol. 33, núm. 8, pp. 513-519.
West, Paige, J. Jim Igoe y Dan Brockington, 2006, "Parks and people: the social impact of protected areas", Annual Review of Anthropology, núm. 35, pp. 251-277.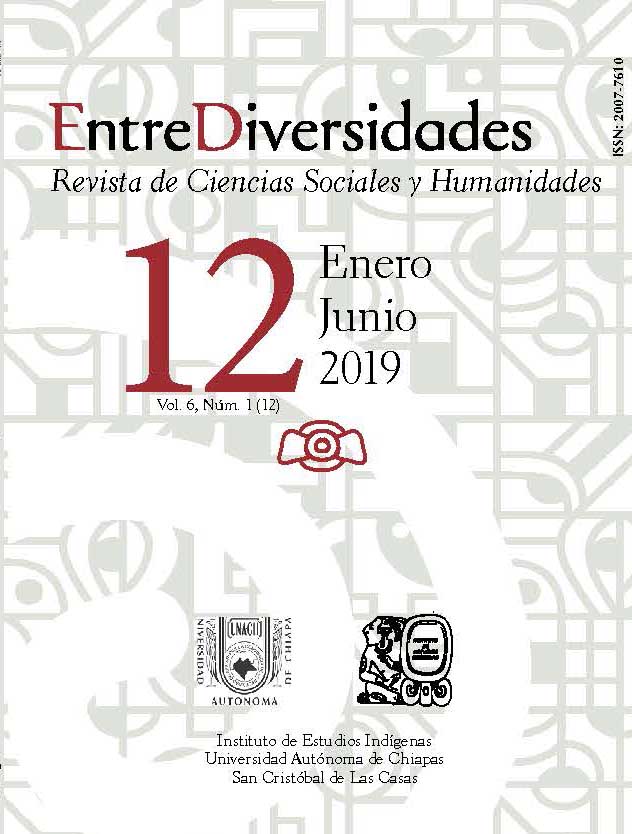 Cómo citar
Monterrubio-Solís, C. (2019). Formalización de Áreas Destinadas Voluntariamente a la Conservación en territorios comunitarios e indígenas, avances y reveses. EntreDiversidades, 6(1 (12), 79-110. https://doi.org/10.31644/ED.12.2019.a03
Derechos de autor 2019 EntreDiversidades
Esta obra está bajo licencia internacional
Creative Commons Reconocimiento-NoComercial-SinObrasDerivadas 4.0
.